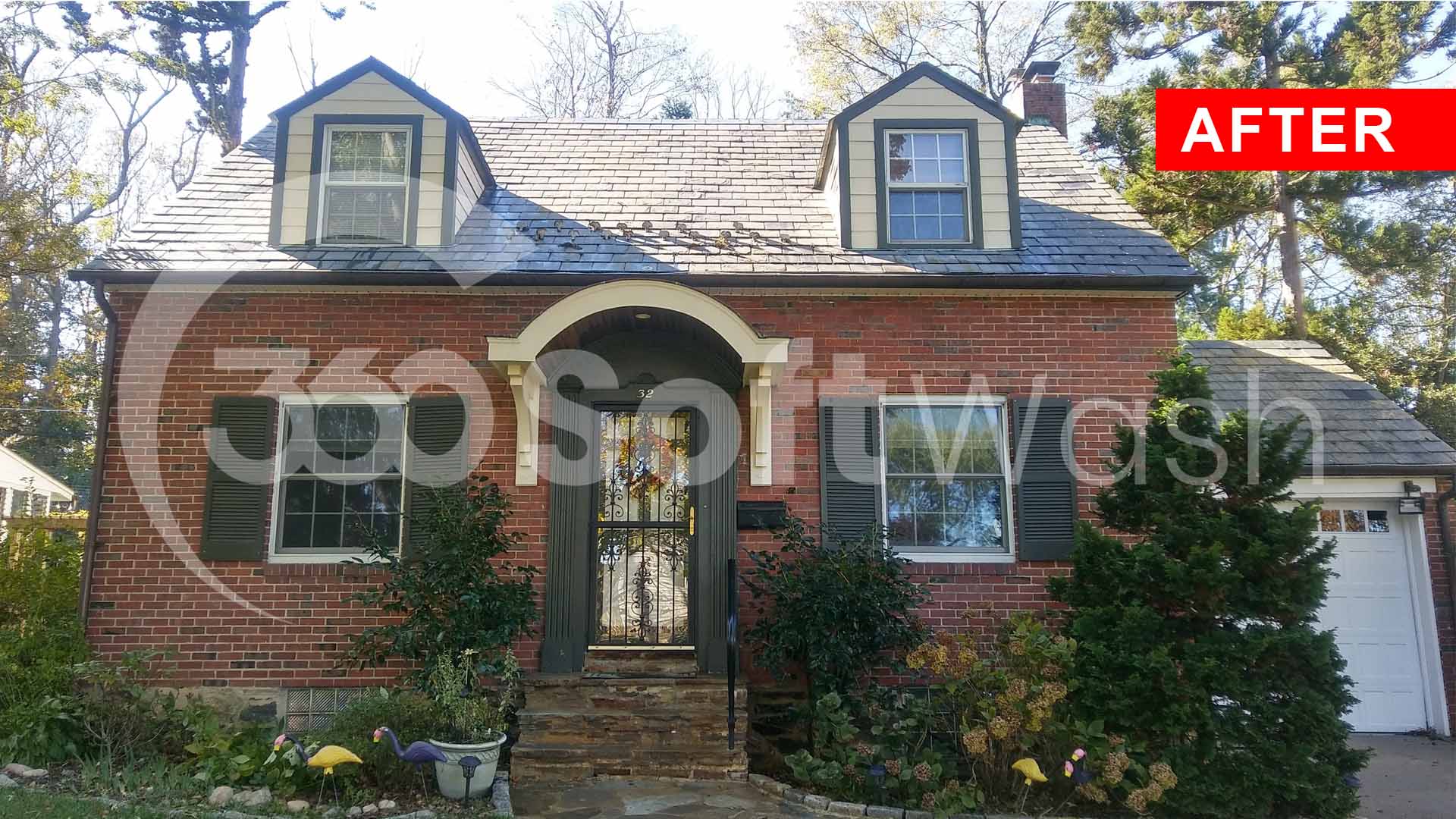 Roof Cleaning Annapolis Junction MD
Our eco-friendly soft washing roof Annapolis Junction MD service keeps algae, mold, green streaks, dirt, and grime off of your roof, protecting the structure and its lifetime, as well as your home and family. The service also ensures the roof looks great, which maintains the curb appeal at your home.
This safe roof cleaning Annapolis Junction MD service doesn't cause damage to the roof and prevents further damage. No matter the roof material on top of your home, 360 Soft Wash service keeps your roof in the best condition with our low pressure washing Annapolis Junction MD service.
Why Roof Cleaning is Important
Low pressure washing Annapolis Junction MD protects the roof and prevents damages to the structure and to your home. Algae, mold, and other grime can damage the roof and it takes little time for this to happen. This staining on the roof not only damages the structure but also cases an unappealing appearance that takes away from the curb appeal of the property.
Roof cleaning removes the stains, dangers, and worries, helping maintain the integrity and beauty of the roof. After roof cleaning, the roof is protected and you can ensure you get the longest life from the structure while minimizing the risk of damages.
Roof Cleaning Annapolis Junction MD Cost
Roof cleaning Annapolis Junction MD cost is available via a free quote. Use this quote to compare our rates with other companies in the area. We proudly offer competitive pricing for top-notch roof cleaning service and think you'll agree.
Each job is priced differently, since factors such as the size of the roof and roofing material influence costs. Our low pressure washing Annapolis Junction rates are among the best in the area but don't take our word for it when a free quote awaits. We'd love to show you what so many others in the area know already.
Reasons to Choose 360 Soft Wash
Our Roof cleaners Annapolis Junction MD go the extra mile to deliver exceptional services to each customer who trusts us for service. Our technicians arrive at your home in uniform, with the tools necessary to get the job done. We're licensed, insured, and bonded, giving you comfort in our service.
Furthermore, our technicians are confident in their soft washing roof Annapolis Junction MD service and guarantee their work. Not all of the roof cleaners Annapolis Junction MD goes the extra mile to serve their customer's needs. Now that you've found roof cleaners Annapolis Junction MD who always go above and beyond, why look anywhere else for service?
Expert Roof Washing Annapolis Junction MD
We are a 'top-rated service provider' on Angie's List, an honor we take seriously. Check out our online reviews to learn what it is that helps us stand out in the minds of our customers. We're also members of the Professional Cleaners Association.
360 Soft Wash is a roof washing Annapolis Junction MD company dedicated to customers and exceptional services. The roof on your home is one of the most important components. Protect it and give yourself peace of mind when you schedule roof washing Annapolis Junction MD with us today.
Call now to schedule an appointment (410) 680-2876
Happy Customers
Prompt service. Good results. Good price. Will definitely use it again.
I loved this company. The person was very courteous and professional. They had great prices and were much lower than other companies that I got quotes from. I would highly recommend using this company and I will absolutely use them again.
This 2-man crew did a great job on our home. I tried a water-based power wash myself, but it didn't quite get the job done, especially on the high reaching sections of our home. The team came by, took their time and our home looks great!
– COMMERCIAL & RESIDENTIAL –
A CREW THAT ALWAYS ARRIVES ON TIME
EXPERT TECHNICIANS WITH YEARS OF EXPERIENCE
TOP-QUALITY
EQUIPMENT INCLUDING A SOFT WASHING MACHINE
TREMENDOUS ATTENTION TO DETAIL