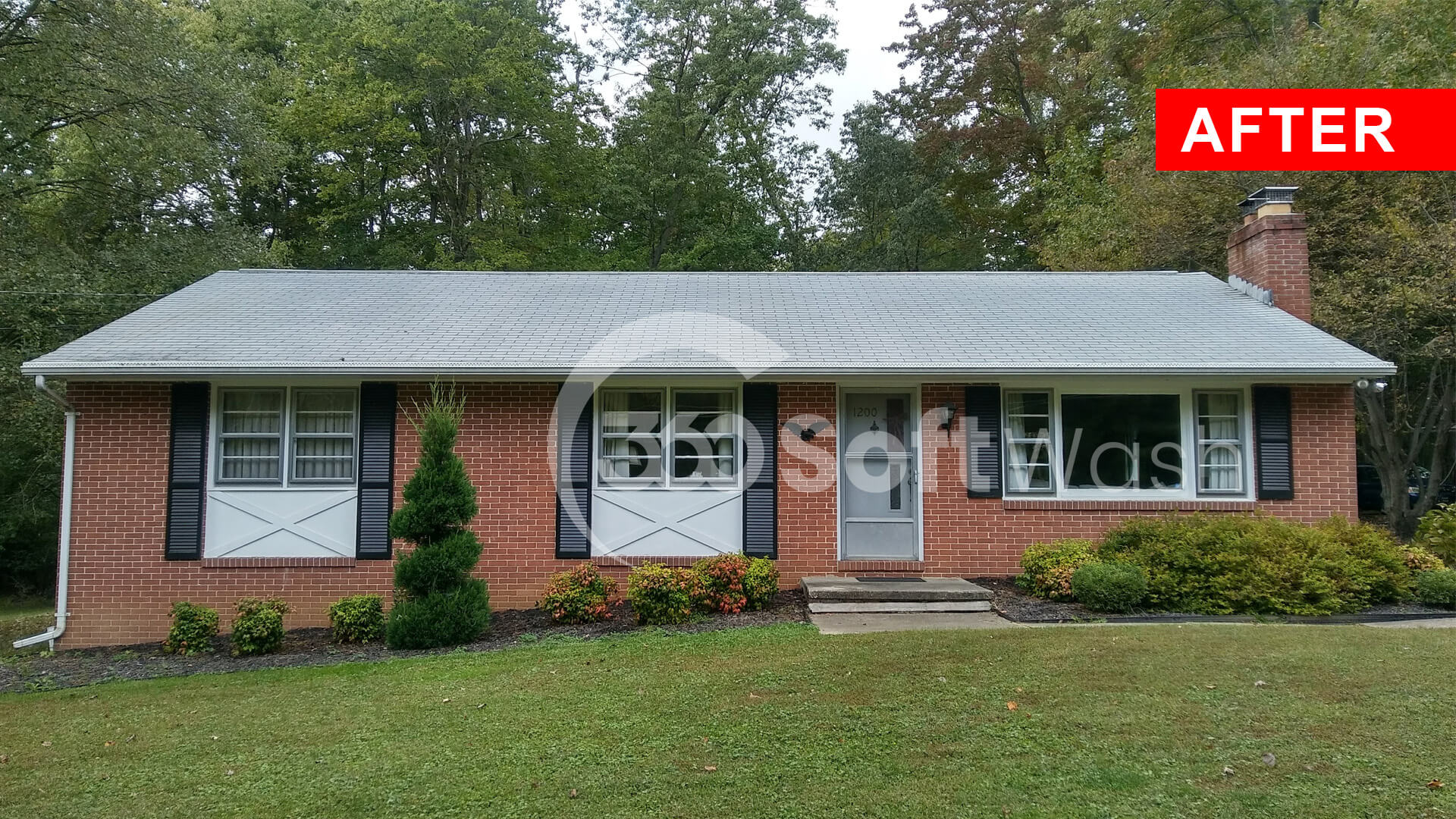 Roof Cleaning Bel Air MD
The Importance of Professional Roof CleaningThe aesthetic of a dirty, unkempt roof is anything but good. It makes the value of the home look low and everyone who has to peer in its direction cringe. There is no reason for a roof not to get the proper cleaning it deserves.  Does Dirty Mean Damage?

Having a filthy roof that looks like it hasn't been touched since the Middle Ages is not only going to be unpleasant to look at, but it could cause a number of different negative situations beyond that. The roof faces the elements. It is an essential barrier in keeping such elements out of the home. Natural rainwater washes a lot of the dirt build-up off, but not everything.  If one looks at a dirty roof, one will most likely notice dark stains and other areas discolored from the rest of the shingles.
These things can be caused by natural things such as algae and fungus that can grow on an untidy roof. These natural phenomena may seem innocent until one understands that they can cause roof damage such as shingle deterioration and wood rot. The health of the shingles is greatly compromised when these things occur, but preventative measures such as roof cleaning  Bel Air MD can greatly limit the likelihood of this happening.  
Importance of Roof Cleaning Bel Air MD
Roof cleaning Bel Air MD at the most professional level will leave a home looking fresh, but also prolong the life of the roof. Getting a proper cleaning will get rid of dirt, bacterium, fungus, and other harmful organisms that lead to roof damage.
A homeowner may be tempted to clean the roof of his or her home on their home, but professionals know the ins and outs–from how to safely clean the roof to what sort of special equipment to use. Leaders in the cleaning industry will be timely, efficient, and provide the very best in customer service.
Customer Service
Whatever the service or industry, customers are always pleased when they receive respectable and honest service. Nobody likes businesses they can't trust. Nobody likes a business that does a poor job while still charging high amounts of money.
Customer service needs to be especially high in a service that involves professionals coming to the home of the client. Trust is especially important in such situations. A customer needs to feel comfortable and the uniformed professionals at 360 Soft Wash will provide the impeccable service a customer deserves.
Save Money
The cost associated with maintaining the health of the roof through cleaning is going to be much more fiscally friendly than allowing the shingles to rot over time, causing the need for replacement and more. Preventative care will not only save money but also energy as hiring efficient cleaning industry professionals will drive the customer to feel less stress.
Imagine a homeowner being negligent for two decades and then one day noticing a leak in the home caused by wood rot. It would damage a number of different things and lead to extreme stress and a high bill to be able to afford all of the repairs. Simply hiring the best professionals in the cleaning industry seems like a better idea.
Finding the Best
When a customer goes looking for a service they have never used before or to find a replacement for their old service, they are going to use things like the internet to get reviews. They will read people's experiences with a roof washing Bel Air MD business, get to know the hours and the prices associated with the business. When it comes to roof cleaning, 360 Soft Wash provides ample customer satisfaction throughout.
Call now to schedule an appointment at (410) 680-2876
– COMMERCIAL & RESIDENTIAL –
A CREW THAT ALWAYS ARRIVES ON TIME
EXPERT TECHNICIANS WITH YEARS OF EXPERIENCE
TOP-QUALITY
EQUIPMENT INCLUDING A SOFT WASHING MACHINE
TREMENDOUS ATTENTION TO DETAIL