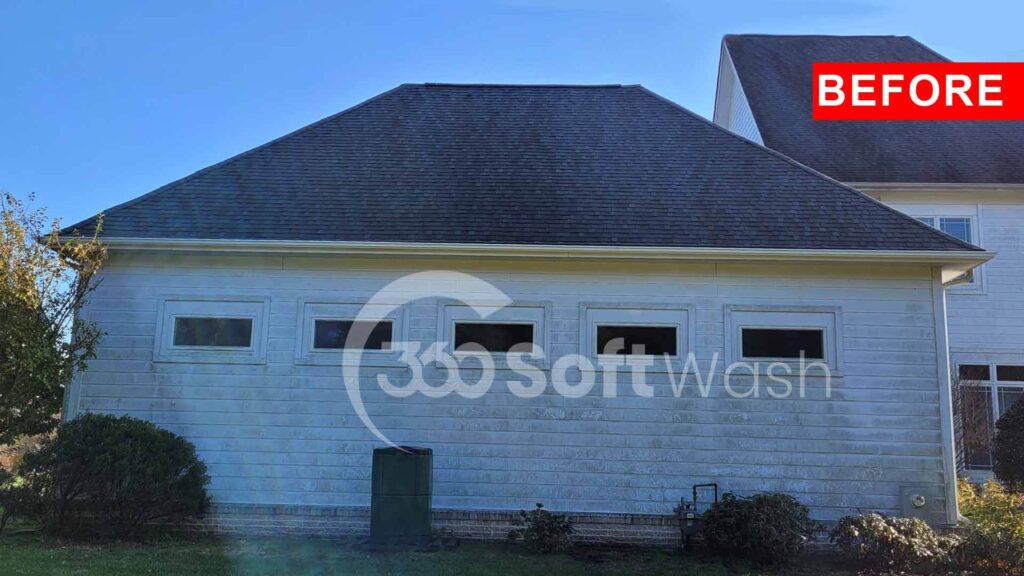 Soft washing and Power Washing Highland MD
If you want to get something immaculate, like your house, business building, driveway, or even a parking lot, you should consider pressure washing it. Pressure washing is a cleaning technique that is quick and quite effective at getting things clean. There are many benefits to both power washing and soft washing, and you may need both if you have a tough surface to clean. The following are why it is soft and power washing is better for your home.
What is Soft Washing?
Soft washing is cleaning property or car using low pressure and specialized solutions. It is an environmentally safe method of removing algae, mildew, and other organic stains. Its name comes from its differing characteristics from power washing. It is especially beneficial to people with sensitive skin and is a good option for homes where the owner does not want to use powerful detergents.
Where can Soft washing be Used
Before hiring a soft washing company, make sure that the company is experienced in soft washing. Soft washing is ideal for:
• Glass doors and windows
• Stucco
• Patio enclosures
• Wood panel siding
• Vinyl siding
• Outdoor furniture
Soft House Washing in Highland MD will suffice for many soft or sensitive surfaces or where there is a risk of property damage.
Benefits of Soft Washing
Eliminates Harmful Microorganisms
Soft House Washing in Highland MD, has many benefits for homeowners. It kills mold, lichen, and algae, keeping your home and its inhabitants healthy. It can also help protect your roof and fixtures, saving you hundreds of dollars.
Rough weather can damage your siding, driveway, and sidewalk. It can even make your car look dirty. By using this method, you can keep the exterior of your home looking clean and beautiful. You won't need to worry about the weather anymore.
Time Saver
One of the best things about utilizing a pressure washer is that it speeds up the learning process five times. Cleaning the exterior of your home and all of the surfaces that come with it without a pressure washer can take days, if not weeks.
It may take some time to thoroughly wash off your exteriors if they are dusty or massive, but your pressure washer will significantly speed up the process. Using a pressure washer can clean everything in a fraction of the time it would take to clean it by hand.
Helps Maintain and Restore
Soft House Washing in Highland MD involves applying cleaning solutions to exterior surfaces under low pressure. They also use special detergents that kill algae and stop mold from reappearing. They can also remove stubborn stains.
Before you hire a soft House Washing in Highland MD, make sure that the company is experienced in soft washing. Furthermore, it helps painted surfaces and masonry last longer. It can help restore your siding, windows, roof, and gutters. It's an excellent choice for home exteriors that need a little refreshment.
Ecofriendly
Soft washing solutions are biodegradable and eco-friendly. The solution may contain bleach, but it's diluted with water to prevent any harm. The bleach concentration is the same as the bleach used for disinfecting water in swimming pools.
The presence of bacteria, mold, and algae can cause health problems for your family. With soft House Washing in Highland MD, you can remove them with the gentle spray of a chemical solution.
Limitations
When it comes to removing dirt and debris from cracks and difficult-to-reach areas, lower pressure may be ineffective In Concrete, Driveways.
If the water pressure is insufficient, mold and mildew may not be removed entirely, so you must wash more frequently.
What is Power Washing
Power washing is a cleaning method that uses high pressure to remove dirt, grime, and loose paint from surfaces. It can also be used to clean concrete and other surfaces. This type of cleaning is effective for a variety of projects. Let's take a closer look at this process.
Pressure washing Highland MD is best for large, hard-surfaced jobs. The heated water helps remove airborne pollutants, speeding up the cleaning process. The process is most effective on hard surfaces such as bricks, slate, and concrete.
It's also an excellent way to keep a house looking clean, especially if you have pets or kids. Depending on the weather and the conditions of your area, pressure washing Highland MD can help keep your house looking great.
Where can Power Washing be Used
• Driveways and garage floors.
• Front entrance stairs and walkways
• Concrete or tile patios.
• Wood decks.
• Fences.
• Home exteriors that are vinyl or brick.
• Cars and Trucks.
Pressure washing Highland MD is superior to gentle washing on more complex surfaces such as concrete driveways, floors, and masonry. It's capacity to efficiently remove even the toughest stains and debris buildups because of its high pressures.
Benefits of Power Washing
Cleans effectively hard to remove dirt
Professional Pressure washing Highland MD benefits more than just the walls, windows, and roof; other places and property related to the structure can also be pressure washed. The sidewalks and pathways in front of a building are frequently pressure-washed areas.
This method can remove unsightly graffiti and rubbish stains that occur due to frequent public use.
Power Washing Highland MD can be used to clean parking garages, loading docks, dumpster areas, parking lots, facades, and awnings. This, in turn, will boost the building's employee and client experience while also improving its appearance.
Can Handle Bigger Jobs
Pressure washing Highland MD is an excellent option for larger jobs. It's also a great way to remove stubborn dirt and grime from exterior surfaces, including driveways and sidewalks. This cleaning method is effective for larger jobs, but it's not suitable for softer surfaces.
In many cases, Power Washing Highland MD is an excellent solution if you want to keep your property clean and attractive. Highland Power washing is an affordable and convenient way to get your exterior areas looking their best.
Restores a roof's and driveway or walkway's Appearance
Using a pressure washer on a patio is especially beneficial if you entertain outdoors on your patio. Whether it's made of tile or concrete, pressure washing Highland MD is a quick and effective way to improve the appearance of your patio.
It never hurts to improve the exterior appearance of your building by using Highland Power washing. Whether the owner wants to sell or lease space, regularly having your building pressure cleaned by experienced Highland Power washing cleaners might increase its worth. It will give the building a fresher, more appealing appearance.
Promotes a healthy environment
By removing potentially dangerous substances, power washing Highland MD can improve the work environment for personnel in the building. Pollen, pollution, dust, grime, mildew, algae, and bird droppings can all cause health problems such as breathing difficulties, allergies, and illnesses. Power washing Highland MD removes these contaminants and, when done regularly, helps to prevent them from forming.
Helps in Maintaining surface areas
Pressure washing can help enhance the work environment for employees in the building by removing potentially hazardous pollutants. Pollen, pollutants, dust, filth, mildew, algae, and bird droppings can all contribute to respiratory issues, allergies, and diseases.
Highland Power washing eliminates these impurities and helps prevent them from forming if done regularly. Cleaning hard to remove dirt and preventing further buildup with regular cleanings can help prevent structural damage.
Limitations
Improper use may result in property damage
The main disadvantage of using a pressure washer is that it requires considerable time to perform. The process involves pumping the water into the machine at high pressure to clean the surface. However, it is crucial to use caution and follow instructions carefully. An improper operation can cause severe property damage and even bodily harm.
Inexperienced users may damage nearby electrical wiring and damage nearby furniture. Despite these limitations, pressure washing machines can help make cleaning more accessible, but there are also some disadvantages to be aware of.
Potentially wasteful
If not carefully used, a pressure washer can waste a lot of water and cleaning chemicals.
Expensive cost of maintenance
Gasoline pressure washers require regular oil changes and tune-ups. They can also overheat, which may cause serious injury. Moreover, gas pressure washers must be winterized to prevent overheating. They cannot be stored indoors and transported outside during colder seasons because of their high pressure.
Noisy
Pressure washers are noisy. While electric pressure washers don't create as much noise as gas ones, they are still loud enough to cause hearing problems if used near cars and siding. The noise can damage electrical wiring, so you may want to wear protective gear.
Conclusion
It's always preferable to consult a professional Power Washing Highland MD if you're unsure. Untrained power washers can sometimes cause more harm than good, whether by applying too much or too little pressure or utilizing the wrong chemicals, which can damage the surface or have little to no effect. Highland Power washing companies that have stood the test of time do so because they understand their customers' demands and employ the appropriate tools, pressure, and cleaning solutions for the job.
Call now to schedule an appointment (410) 680-2876
– COMMERCIAL & RESIDENTIAL –
A CREW THAT ALWAYS ARRIVES ON TIME
EXPERT TECHNICIANS WITH YEARS OF EXPERIENCE
TOP-QUALITY
EQUIPMENT INCLUDING A SOFT WASHING MACHINE
TREMENDOUS ATTENTION TO DETAIL
CALL OR SUBMIT A FORM FOR A FREE ESTIMATE!
Our Service Area is in Howard County MARYLAND
Scaggsville, Laurel, Fulton, Savage, Highland, Jessup, Clarksville, Dayton, Ellicott City, Daniels, Ilchester, Oella, Columbia, Elkridge, Simpsonville, Woodstock, Granite, Cooksville, Glenelg, Glenwood, Lisbon, West Friendship, Woodbine