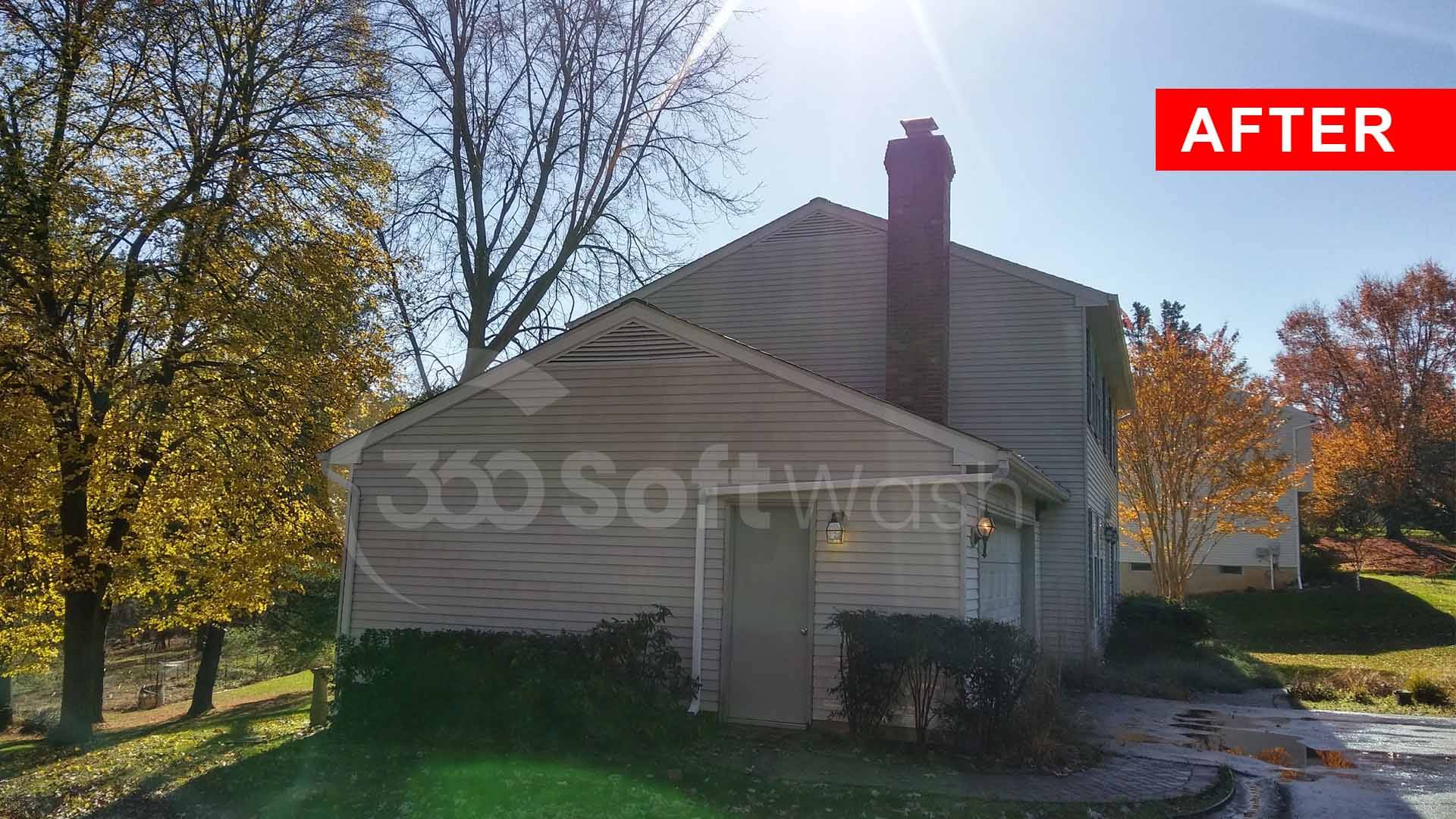 Soft washing and Power washing Laurel MD
Soft washing and Power washing Laurel MD Professional pressure washing is amazing. If you've never seen the results, you will be surprised. It's drastic. Finding a team to do your pressure washing and soft washing can be a hard choice. Here are some facts of what you should look for in that team.
Power washing and soft washing services are not all alike. Power washing blasts the surface with water at high pressure with hot water. The power wash uses hot water to sanitize as it cleans. Not only do your end up with a good-looking surface, but it's actually clean too. This can be handy with an old home that needs restoration. You can rely on us to be your pressure washing Laurel MD specialists for this.
Before you think about trying to do this yourself, consider this. The power washing machines and soft washing machines are heavy duty. If you hire someone that doesn't know what they're doing, you could seriously damage the building and yourself. Avoid all that. When you are ready, call us to be your pressure washing Laurel MD professionals.
Soft washing uses the same level of machinery. Care must be taken to avoid damage to the surface. It's used for many things. It's normally used for rinsing off the soap after the power wash is applied. It's also used for surfaces that can't handle the power pressure cleaning process. Only a professional knows which to use, and when. Let us be your soft washing Laurel MD team now. We know what to do.
The building materials of your home or building that needs to be washed, make a huge difference. Certain surfaces hold up better than others. We can wash your home, building, and pavement surfaces. Many of our customers call us to clean the driveway, front or back porch, and roof. It's really important in areas that have high humidity. It cleans the growth from the rain and debris that gather in places that can clog drains. Call for us to handle your soft washing Laurel MD specialists. We can handle everything.
There are health advantages to soft washing and power washing. All those things that gather in the rain, grow unhealthy things in the heat. Mold can grow and even deteriorate your home or building's structures. Here are some other things that can gather to grow that unhealthy mess.
Large Pollen
Weeds
Leaves
Dirt
Rocks
Dead bugs
Cleaning all that out with a professional soft wash cleans the debris and sanitizes all surfaces. The standard water hose won't work either. Invest in a professional soft wash. Call for us to be your soft washing Laurel MD specialists. The soft wash will surprise you at how effective it is. When we're done cleaning we guarantee you'll be pleased.
We are constantly finding those little things that you didn't even know were there. We can safely clean and sanitize your building or home. We can get rid of all those gross things that gather on your roof and eaves too. You'll see things about your surfaces that you never knew you had. We've seen customers that didn't know what color their driveway was until we washed it. We can be your power washing Laurel MD specialists. We'll show you things you never knew you had.
Don't fool yourself either. We don't just blast high-pressure water and soap at your surfaces. It is about the process and the chemicals used. They clean and sanitize effectively. They do no harm. Attention to detail is part of what we do. Our non-invasive procedures are what keep our customers coming back year after year. Call us. We can be your pressure Washing Laurel MD team now. Call us. We'll be happy to help.
We don't leave until the job is complete. You will be thrilled with the results. Our cutting-edge machinery is designed to handle whatever the leaves and debris leave behind. Some of our best customers are those that clean distressed properties. We can get rid of years of growth from all the things that gather in the crevices. It will look new when we're done with it. Our services are perfect for pre-paint cleaning. We're an asset before that house showing as well. If you bought a home that has sat for years growing things that you don't even know how to identify, call us. We've got you covered. We'll get rid of it, even if we don't know what it is.
We ensure you're happy before we leave. We're the professionals that you'll want to help your prepare your home or building for sale or an event. Don't call people that don't get it done right the first time. It will waste your money. Don't rent and try to do it yourself. You might regret it. We've even had people call us after they tried to do it themselves. Don't lose good money not letting us be your power washing Laurel MD team. You will save money and feel healthier. Your home, building, or driveway will shine like the day you bought it. In fact, it might even look better than the day you bought it.
Summertime is when you should think about doing this. We're here to help you get those things out of the places that can freeze in the winter and crack. You don't want that to happen. Let us help you. Your grill parties will feel professional after we clean with a power wash. Your decks and backyard pavement will be as good as new when we're done cleaning. It won't damage anything. It just looks clean. Feels good too. Determining which type of wash service you need can be tricky. Here are some examples of which one is needed for your individual needs.
Sidewalks
Paved Surfaces
Brick
Stone
Patios
Soft Washing
Knowing what chemicals to use on each surface is important. We mentioned that earlier, but did you know how bad the wrong chemicals can do damage? If you've ever cleaned a car and had the paint come off over time, then you know what we mean. The correct chemicals and cleaners, the proper pressure, and the angle of the wash, all make the difference.
The power wash really works well for all those places like that. The roof is another place that we love to clean for our customers. Shingles will be clean, look good and be perfectly intact. If you use non-professionals or DIY, damage can really happen before you know it. Clean your home or building with confidence. Let us do your power and soft washing, so you can feel confident that no damage will happen to the place that you value. We take care of you just like your home or building was our own.
The soft wash works to clean the shutters, windows, and other more fragile surfaces. It destroys bacteria and molds too. Some customers think they need a painting job. turns out, they just needed a good cleaning. The disinfectants are safe for the family and pets too. Get the algae off. Clean the debris and bacteria for a healthier home or any building. Allow us to be your power washing Laurel MD professionals. We have your satisfaction in mind as we work. We want you to be satisfied. You won't have to call us often, but when it is time, call us to handle your power and soft washing needs.
We're honest and dependable. We'll clean for you just like it was our own place. You'll be pleased when we are done. Our technicians are bonded and insured for your complete satisfaction. Our uniformed staff is well trained to handle it all. We aren't done until you are satisfied.
Call now to schedule an appointment (410) 680-2876
– COMMERCIAL & RESIDENTIAL –
A CREW THAT ALWAYS ARRIVES ON TIME
EXPERT TECHNICIANS WITH YEARS OF EXPERIENCE
TOP-QUALITY
EQUIPMENT INCLUDING A SOFT WASHING MACHINE
TREMENDOUS ATTENTION TO DETAIL
CALL OR SUBMIT A FORM FOR A FREE ESTIMATE!
Our Service Area is in Howard County MARYLAND
Scaggsville, Laurel, Fulton, Savage, Highland, Jessup, Clarksville, Dayton, Ellicott City, Daniels, Ilchester, Oella, Columbia, Elkridge, Simpsonville, Woodstock, Granite, Cooksville, Glenelg, Glenwood, Lisbon, West Friendship, Woodbine