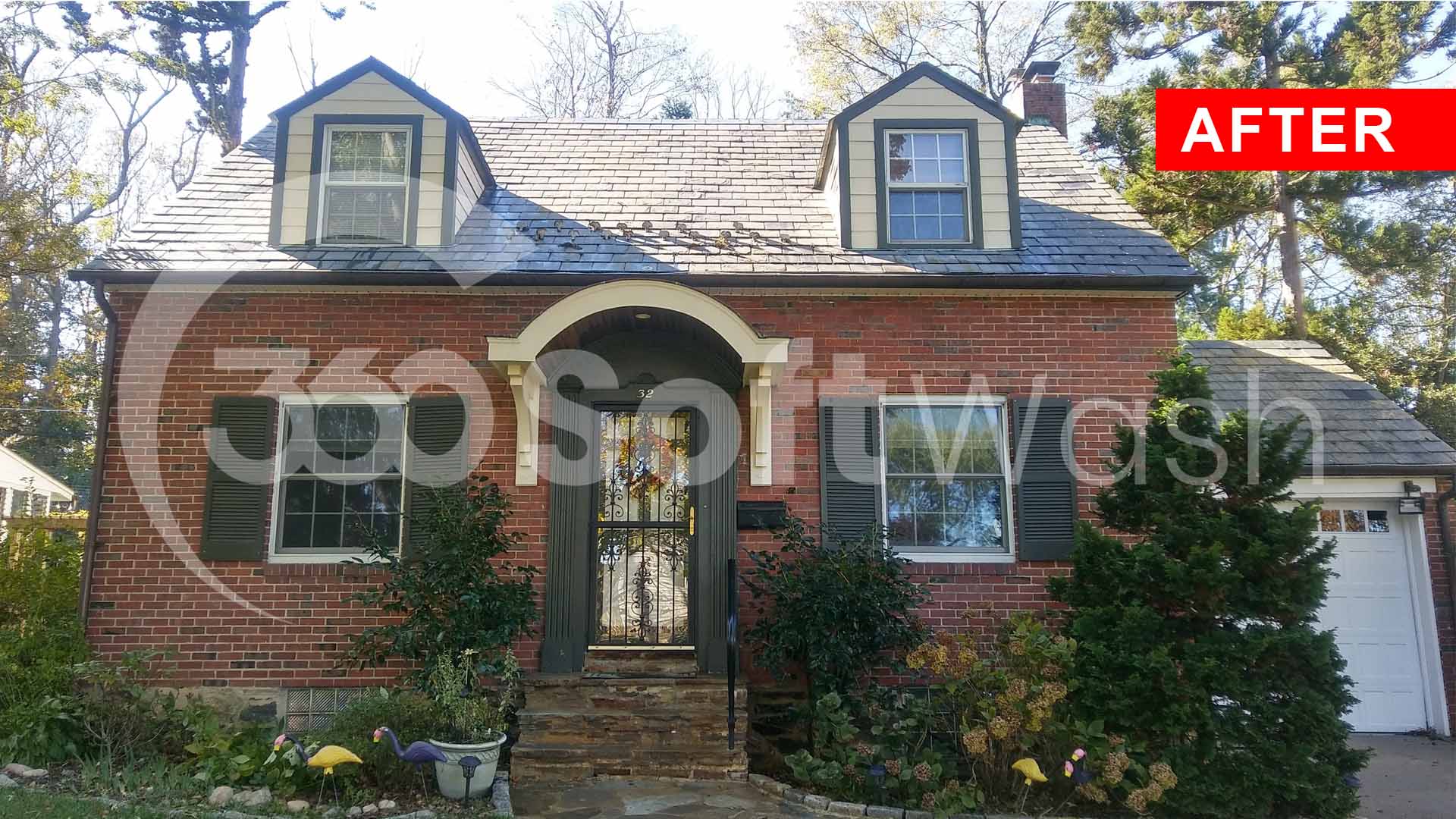 Roof Cleaning Cooksville MD
Choose Our Roof Cleaning Services
You remember the way that your roof looked on the day that you moved into your home and you are disappointed that it does not look like that anymore. You remember how proud you felt when you looked over your home when you were first moving in because every part of it was clean and in perfect shape.
If there are large trees near your home, you might see the leaves of those trees scatter all over your yard, and you might see them gather on the roof of your home. You might have small branches collect on the roof of your home, as well.
A storm can cause all kinds of debris to get on a roof, and everyday life can cause a roof to get dirty, as well. 360 Soft Wash is available with a roof washing Cooksville MD service if you have noticed that your roof doesn't look like it once looked.
The roof washing Cooksville MD services that we provide help to clear off a roof in a gentle way. We help a roof look clean and new, and we do that without damaging the roof at all or putting it at risk.
You might feel nervous about having people come to work on your home, especially if you love the place, but you can trust our roof washing Cooksville MD team to be careful as we complete work for you. Our team has been factory-trained to complete low-pressure washing Cooksville MD work, and we know how to take care of a roof like yours without messing up.
Our team is honest, and you can trust that we will do right by you when we come to work on your home. When you hire the services of 360 Soft Wash, you get low-pressure washing Cooksville MD services from a team of individuals who can be trusted. We are insured, we are professionals, and we will show up dressed in uniforms that show you how serious we are about the work that we do. 
We know that leaving a roof covered in debris can be harmful to the roof, and we also know that some types of cleaning services can also be harmful to a roof. We are careful as we work, clearing off your roof without damaging it.
We belong to the Professional Cleaners Association, and you can trust the roof cleaning Cooksville MD work that we do. We guarantee the roof cleaning Cooksville MD services that we offer.
 We are one of the top-rated providers on Angie's list when it comes to roof cleaners in Cooksville MD. You can trust us and the services that we provide, and you can know that you are going to be treated right when the team of 360 Soft Wash shows up at your home.
When you are looking for those who can handle your soft washing roof Cooksville MD needs, seek out those who will charge you a fair price for the help that they offer. Our team will do that. When you are trying to find soft washing roof Cooksville MD services, try to find those who want each one of their clients to be happy. Our team wants that.
360 Soft Wash has been in the roof cleaning business for a good amount of time, and we know how to tackle your roof and the debris that has collected on it. Now is the time for you to start taking good care of your roof and making sure that it will last, and we are the roof cleaners Cooksville MD who can help you do that.
Call now to schedule an appointment (410) 680-2876
Happy Customers
Prompt service. Good results. Good price. Will definitely use it again.
I loved this company. The person was very courteous and professional. They had great prices and were much lower than other companies that I got quotes from. I would highly recommend using this company and I will absolutely use them again.
This 2-man crew did a great job on our home. I tried a water-based power wash myself, but it didn't quite get the job done, especially on the high reaching sections of our home. The team came by, took their time and our home looks great!
– COMMERCIAL & RESIDENTIAL –
A CREW THAT ALWAYS ARRIVES ON TIME
EXPERT TECHNICIANS WITH YEARS OF EXPERIENCE
TOP-QUALITY
EQUIPMENT INCLUDING A SOFT WASHING MACHINE
TREMENDOUS ATTENTION TO DETAIL
Our Service Area
---
HOWARD COUNTY, MARYLAND
Scaggsville, Laurel, Fulton, Savage, Highland, Jessup, Clarksville, Dayton, Ellicott City, Daniels, Ilchester, Oella, Columbia, Elkridge, Simpsonville, Woodstock, Granite, Cooksville, Glenelg, Glenwood, Lisbon, West Friendship, Woodbine.