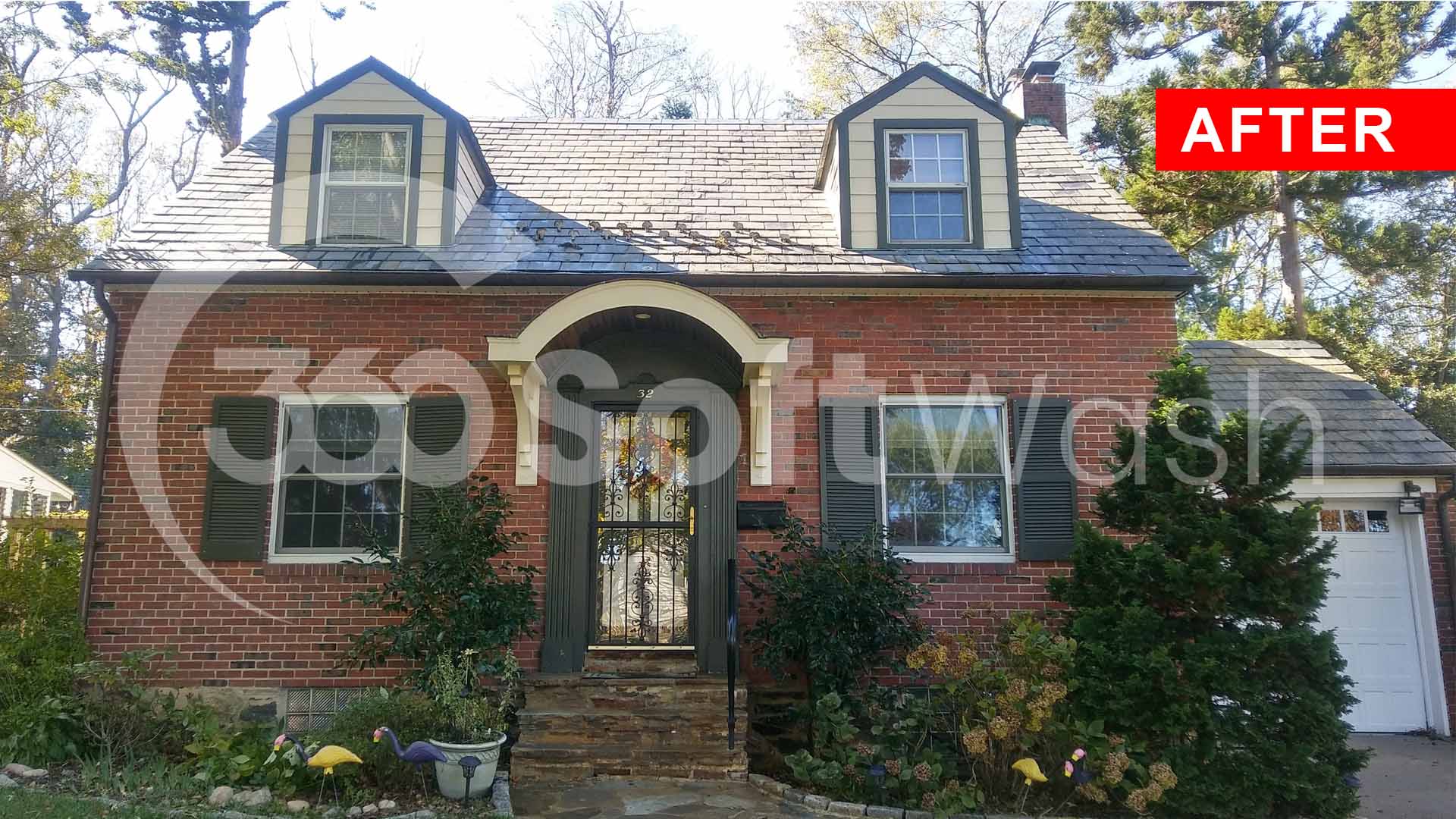 Roof Cleaning Elkridge MD
Elkridge MD Roof Cleaning Service
360 Soft Wash is a roof washing Elkridge MD roof cleaning company with a mission to protect your roof and home. Our thorough cleaning process removes all dirt, grime, mold, and algae accumulation on the roof, revealing an aesthetically appealing, protected home. We'd love to show you why people trust us as their roof cleaners in Elkridge MD if your roof needs service.
Protect Your Roof for Longer
Our roof washing Elkridge MD service is safe for all roofing materials and roofs of all ages. This service is designed specifically for roofs. It protects the delicate structure and will not cause any damage to asphalt granules or other materials. Our soft washing roof Elkridge MD service uses high-pressure water to dislodge all particles stuck on the roof. The delicate service is non-hazardous and eco-friendly, designed to protect the lifetime of the roof and the comfort of your home.
Soft washing roof Elkridge MD service is affordable and a part of any good home maintenance plan. Green streaks, black mold, green algae, and all other forms of roof staining are eliminated when we're finished with the job. And, our roof washing Elkridge MD service ensures future problems are few and far between.
Benefits of Roof Cleaning Elkridge MD
Roof cleaning Elkridge MD protects your roof from damage, deterioration, and loss of value. A dirty, stained roof depletes the appeal the roof offers to the home. Even more bothersome, dirty roofs also cause a plethora of damage to both the roof and exterior and interior of the home. No roof is out of the danger zone. Even new homes and roofs may sustain damage from dirt, grime, pests and animals, mold, and algae.
A clean roof saves energy, improving comfort for the entire family. The energy savings decrease utility costs, thus saving money every month on your utility costs. Once we clean your roof, it regains its appeal, charm, and value. In the event you choose to sell a home in the future, this service ensures that it brings the most profit.
Why Choose 360 Soft Roof?
Many roofs washing Elkridge MD companies are out there, but none of them compare to 360 Soft Wash. We take pride in doing things differently than the other guys and we think it's a difference you'll see. Not only are we a licensed, bonded, and insured company, but we also offer prompt, reliable service from uniformed professionals dedicated to cleaning your roof. We're members of the Professional Cleaners Association as an added comfort to you. You'll also appreciate knowing that we are a 'top-rated service provider' on Angie's List. Request a free quote if you want to protect your roof with the help of the best roof cleaners in town.
360 Soft Wash has the roof cleaners Elkridge MD you can trust for thorough and efficient service. Don't let the durability of your roof dwindle due to staining when we're around. Get in touch. Request your estimate. Let's talk about roof cleaning and protection.
Call now to schedule an appointment (410) 680-2876
Happy Customers
Prompt service. Good results. Good price. Will definitely use it again.
I loved this company. The person was very courteous and professional. They had great prices and were much lower than other companies that I got quotes from. I would highly recommend using this company and I will absolutely use them again.
This 2-man crew did a great job on our home. I tried a water-based power wash myself, but it didn't quite get the job done, especially on the high reaching sections of our home. The team came by, took their time and our home looks great!
– COMMERCIAL & RESIDENTIAL –
A CREW THAT ALWAYS ARRIVES ON TIME
EXPERT TECHNICIANS WITH YEARS OF EXPERIENCE
TOP-QUALITY
EQUIPMENT INCLUDING A SOFT WASHING MACHINE
TREMENDOUS ATTENTION TO DETAIL
Our Service Area
---
HOWARD COUNTY, MARYLAND
Scaggsville, Laurel, Fulton, Savage, Highland, Jessup, Clarksville, Dayton, Ellicott City, Daniels, Ilchester, Oella, Columbia, Elkridge, Simpsonville, Woodstock, Granite, Cooksville, Glenelg, Glenwood, Lisbon, West Friendship, Woodbine.