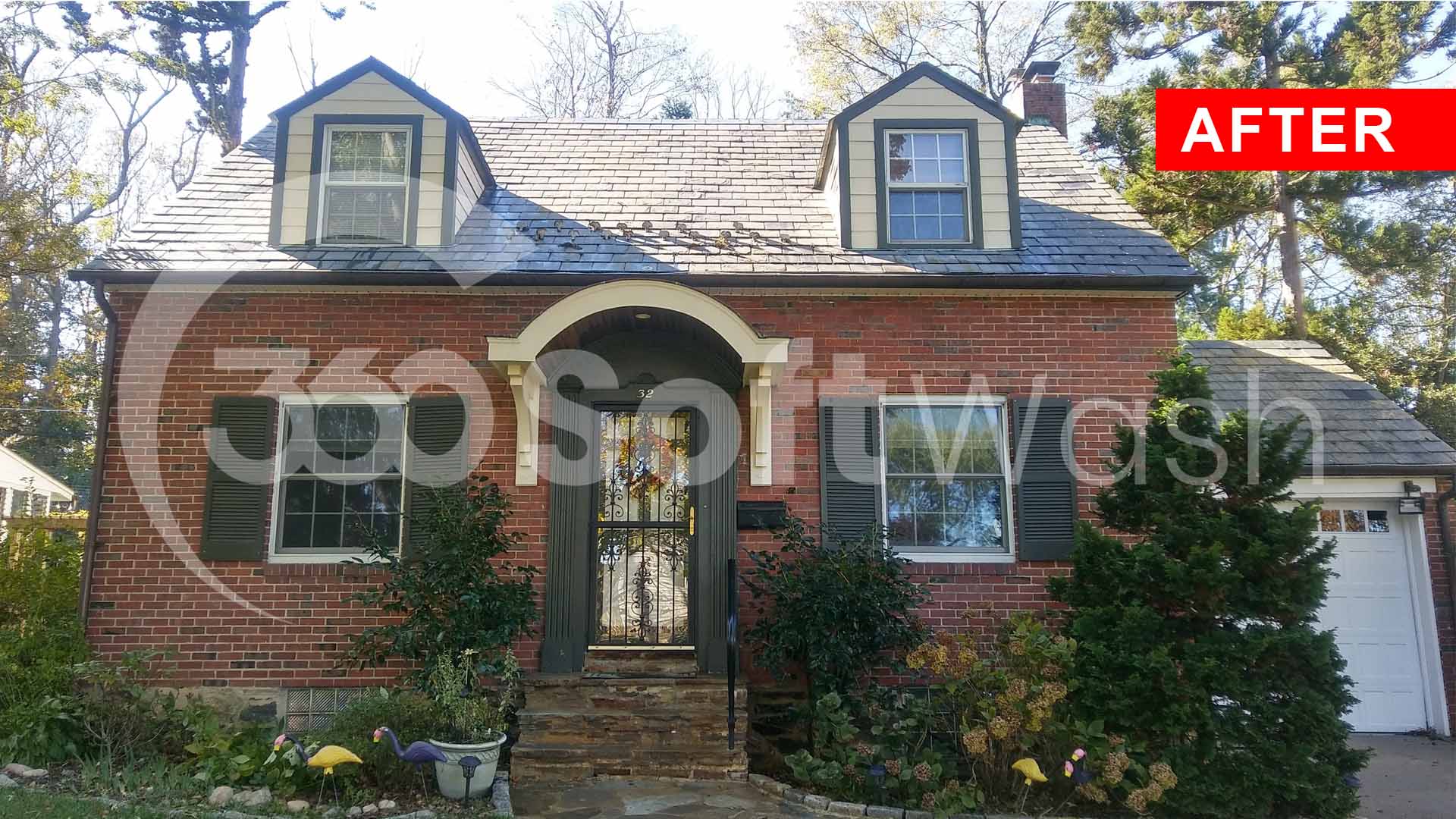 Roof Cleaning Fulton MD
We Offer Services Good for Your Roof and Home
Taking care of your roof is an important part of taking care of your home, but you are not looking to get up onto the roof and clear off the dirt and debris that has gathered there on your own.
You do not have to tackle every home cleaning project by yourself, and there are people out there who can take on roof cleaning Fulton MD needs that you have so that you can take care of your roof without actually doing any work yourself. When you contact 360 Soft Wash, we can come and clear off anything that has gathered on your roof so that your roof will stay in good shape.
Our roof cleaners Fulton MD services can make a real difference on a roof like yours. When we handle roof cleaning Fulton MD work, we change the look of your roof and we also help to keep it from being damaged. You want to feel proud of the way that your home looks from the street and the way that it looks when someone comes up your driveway and gets close to it.
We will make sure that our roof washing Fulton MD services leave your roof looking like one that was just installed. We will clear off everything that has been sitting on your roof and messing with the way that it looks.
The more professional that a company is, the more likely that you are to trust them. The better dressed that a group of people is when they come to work on your home, the more likely you are to think of them as professionals and people who can bring about good change.
When our roof cleaners Fulton MD show up at your home, they will show up in uniforms that help you see them as the professionals that they are. We have a specific uniform that our staff wears, and you can trust that our team will work in a way that is just as professional as the way that they look.
You are concerned that the soft washing roof Fulton MD team that comes to your home might not know how to complete the roof cleaning work that you need to be done. You are worried that something might be done to harm your roof. When our soft washing roof Fulton MD team shows up at your home, you can know that they have been factory trained and they know what they need to do for you.
Our team offers a guarantee when you hire us to work for you, too, so you can know that everything will work out well and that you will be happy with the results that you get through us.
Our licensed and insured roof cleaners Fulton MD are ready to work for you, and the entire staff at 360 Soft Wash is committed to giving you quality care. You will not be disappointed with the work that is done by our roof cleaners Fulton MD, and you will appreciate the way that your home looks when we are finished cleaning off your roof.
People like you are important to us, and that is why we are careful in all of the roof washing Fulton MD work that we do. We want you to call us again the next time that you are in need of the kind of help that we offer, and we also want you to recommend our team to all of your friends. You can trust that the roof washing Fulton MD help that you receive from us will be good for your roof and your home.
Call now to schedule an appointment (410) 680-2876
Happy Customers
Prompt service. Good results. Good price. Will definitely use it again.
I loved this company. The person was very courteous and professional. They had great prices and were much lower than other companies that I got quotes from. I would highly recommend using this company and I will absolutely use them again.
This 2-man crew did a great job on our home. I tried a water-based power wash myself, but it didn't quite get the job done, especially on the high reaching sections of our home. The team came by, took their time and our home looks great!
– COMMERCIAL & RESIDENTIAL –
A CREW THAT ALWAYS ARRIVES ON TIME
EXPERT TECHNICIANS WITH YEARS OF EXPERIENCE
TOP-QUALITY
EQUIPMENT INCLUDING A SOFT WASHING MACHINE
TREMENDOUS ATTENTION TO DETAIL
Our Service Area
---
HOWARD COUNTY, MARYLAND
Scaggsville, Laurel, Fulton, Savage, Highland, Jessup, Clarksville, Dayton, Ellicott City, Daniels, Ilchester, Oella, Columbia, Elkridge, Simpsonville, Woodstock, Granite, Cooksville, Glenelg, Glenwood, Lisbon, West Friendship, Woodbine.