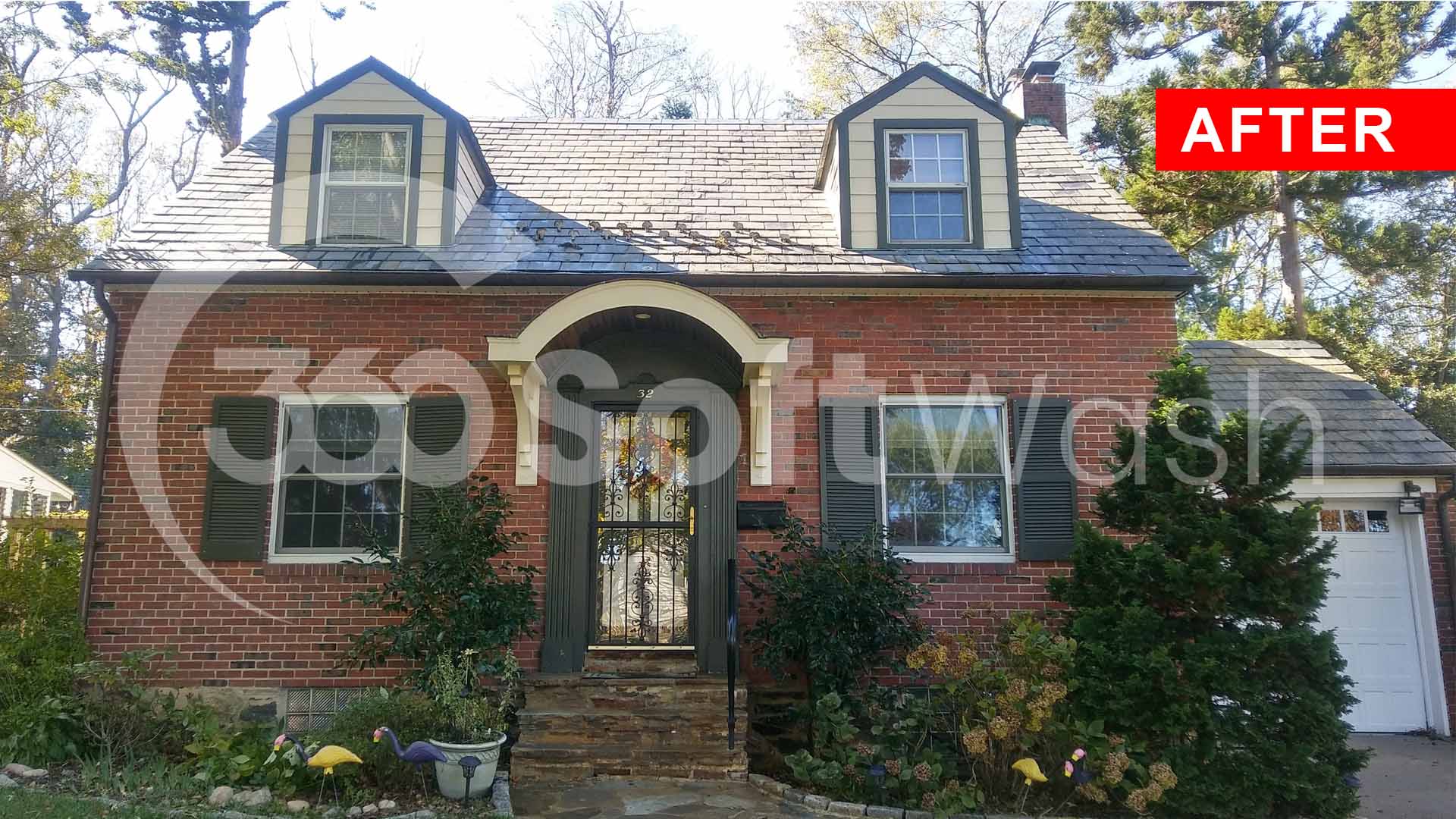 Roof Cleaning Clarksville MD
If you need roof cleaners in Clarksville MD, call 360 Soft Wash first. We're the area's trusted roof cleaning company, delivering exceptional services at great prices. Over the years, we've worked with many homeowners in the area who have great things to say about our services. We'd love to show you why they say these great things.
Our roof cleaning service protects roofs and adds appeal to your property, both qualities that any homeowner values. It's a valuable service that benefits homes of all ages, sizes, and in all areas of town. Roof cleaning Clarksville MD is designed to provide a homeowner with protection, peace of mind, and added value, among other benefits. We'd love to be the company you trust for those benefits.
We've been around long enough to know what makes customers happy and how to deliver those results. Call our roof cleaners in Clarksville MD and let us show you firsthand why our services exceed the expectations of so many customers. We'd love to protect your roof and trust in roof cleaners again!
Roof Stains: What You Must Know
Gloeocapsa magma causes algae to form on the roof that causes roof stains. The unsightly stains are only one of the consequences this algae brings. It also damages asphalt roof shingles. Although staining can occur anywhere on the roof, it's most commonly seen on the north side of the roof. The north side of the roof is most susceptible to staining because it is exposed to less sunlight than other areas of the roof. Lack of sunlight creates moisture and moisture creates algae. Our low-pressure washing Clarksville MD takes care of roof staining and the potential consequences it brings with it.
Roof Cleaning Clarksville MD Benefits
Apart from the peace of mind low pressure washing Clarksville MD offers, homeowners enjoy a plethora of additional benefits when they schedule the service. 360 Soft Wash would love to provide you with roof cleaning so the benefits are yours to enjoy. Benefits of our soft washing roof Clarksville MD service include:
– Protect your roof from algae and mold damage
– Sustain the value of the home
– Prolong roof's lifetime
– Fewer damages/need for repairs
– Save money, time, and hassles
These are only some of the many benefits soft washing roofs Clarksville MD offers. This low-cost service does great things at your home. Call 360 Soft Wash to schedule service with the experts in the area.
Roof Washing Clarksville MD Trusted Experts
Many roof washing Clarksville MD companies are out there, but many fail to bring the same exceptional qualities to the job as 360 Soft Wash. When you need a company you can trust to provide safe, thorough work at great prices, you'll love what we bring to the job. Unlike some of the other companies, we use only licensed, insured, and bonded technicians. We're a 'top-rated provider' on Angie's list and an award-winning company.
Call now to schedule an appointment (410) 680-2876
Happy Customers
Prompt service. Good results. Good price. Will definitely use it again.
I loved this company. The person was very courteous and professional. They had great prices and were much lower than other companies that I got quotes from. I would highly recommend using this company and I will absolutely use them again.
This 2-man crew did a great job on our home. I tried a water-based power wash myself, but it didn't quite get the job done, especially on the high reaching sections of our home. The team came by, took their time and our home looks great!
– COMMERCIAL & RESIDENTIAL –
A CREW THAT ALWAYS ARRIVES ON TIME
EXPERT TECHNICIANS WITH YEARS OF EXPERIENCE
TOP-QUALITY
EQUIPMENT INCLUDING A SOFT WASHING MACHINE
TREMENDOUS ATTENTION TO DETAIL
Our Service Area
---
HOWARD COUNTY, MARYLAND
Scaggsville, Laurel, Fulton, Savage, Highland, Jessup, Clarksville, Dayton, Ellicott City, Daniels, Ilchester, Oella, Columbia, Elkridge, Simpsonville, Woodstock, Granite, Cooksville, Glenelg, Glenwood, Lisbon, West Friendship, Woodbine.