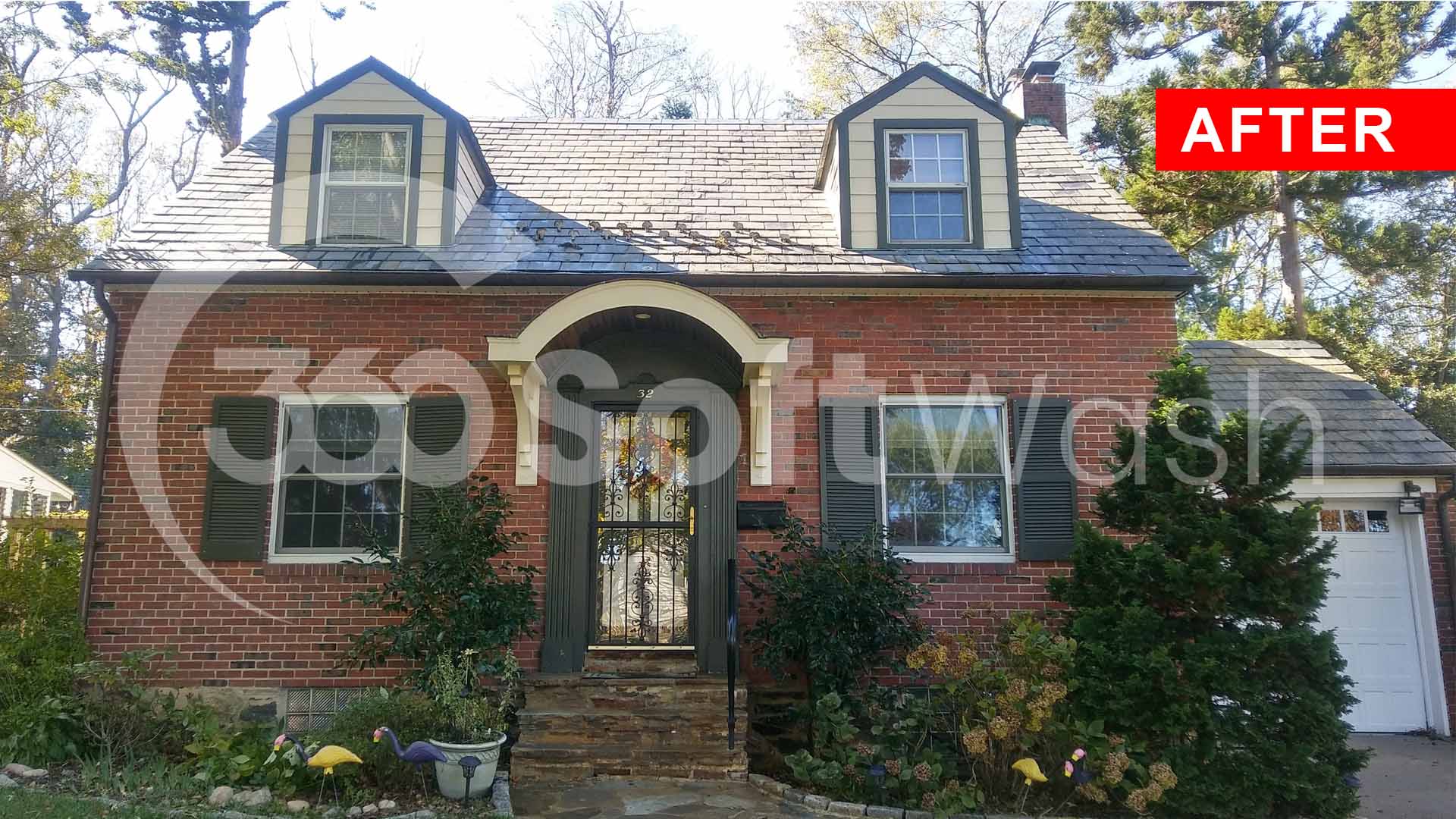 Roof Cleaning Glenwood MD
360 Soft Wash offers superior roof cleaning Glenwood MD for homeowners ready to maintain the appeal and durability of their structure. Without proper care, roofs may very well succumb to damages of various sorts, leaving homeowners to bear the burden of repair or replacement costs. Our roof cleaning Glenwood MD service reduces worry as it protects your roof and home from all types of potential damages.
What is Roof Cleaning?
Roof washing Glenwood MD or roof cleaning, depending on your choice of words, is a service designed to remove dirt and stains from the roof. Any roof is susceptible to this damage, even roofs as young as two or three years old. The staining is oftentimes caused by algae and mold. Both accumulate in all areas of the roof although the north side is more prominent to damage.
Algae and mold affect the exterior roof and the interior structure of the home. Fixtures and appliances can be ruined due to the damage either of the fungi causes. Roofing shingles deteriorate and crumble as a result of algae, mold, and moisture. 360 Soft Wash uses safe roof washing Glenwood MD to stop the damage and protect the roof.
Our roof cleaners Glenwood MD use a soft washing roof Glenwood MD technique to clean the roof. This reduces the risk of damage. Our well-trained technicians understand the correct cleaning procedure to use to clean and protect the roof without causing any damage. We guarantee it! While some of the other companies simply perform a job and go about their business, we stand behind our work with guarantees that keep you happy.
Why Choose 360 Soft Wash?
360 Soft Wash is one of many roof washing Glenwood MD companies, but one of the names you can trust. We take pride in offering exceptional work to every customer. Our goal is to protect your roof. It's a job we take seriously and vow to thoroughly complete each job with efficiency.
We're a member of the Professional Cleaners Association, a fact that puts confidence and certainty into your mind. We're also a top-rated service provider on Angie's List. When you need a low-pressure washing Glenwood MD, you can always trust 360 Soft Wash to exceed expectations.
Costs Matter
When you choose 360 Soft Wash as your roof cleaners Glenwood MD, expect the very best. The very best services, the very best technicians, and the very best prices. Request an estimate to learn the exact costs of service. There is no obligation to hire us after receiving an estimate, although we think you'll agree that we're among the best soft washing roof Glenwood MD companies around.
360 Soft Wash is standing by to answer your call. Whether you have questions, want to schedule an appointment, or find other issues, we'd love to hear from you. Request your estimate and take all of the necessary steps to protect and prolong the lifetime and beauty of your roof.
Call now to schedule an appointment (410) 680-2876
Happy Customers
Prompt service. Good results. Good price. Will definitely use it again.
I loved this company. The person was very courteous and professional. They had great prices and were much lower than other companies that I got quotes from. I would highly recommend using this company and I will absolutely use them again.
This 2-man crew did a great job on our home. I tried a water-based power wash myself, but it didn't quite get the job done, especially on the high reaching sections of our home. The team came by, took their time and our home looks great!
– COMMERCIAL & RESIDENTIAL –
A CREW THAT ALWAYS ARRIVES ON TIME
EXPERT TECHNICIANS WITH YEARS OF EXPERIENCE
TOP-QUALITY
EQUIPMENT INCLUDING A SOFT WASHING MACHINE
TREMENDOUS ATTENTION TO DETAIL
Our Service Area
---
HOWARD COUNTY, MARYLAND
Scaggsville, Laurel, Fulton, Savage, Highland, Jessup, Clarksville, Dayton, Ellicott City, Daniels, Ilchester, Oella, Columbia, Elkridge, Simpsonville, Woodstock, Granite, Cooksville, Glenelg, Glenwood, Lisbon, West Friendship, Woodbine.