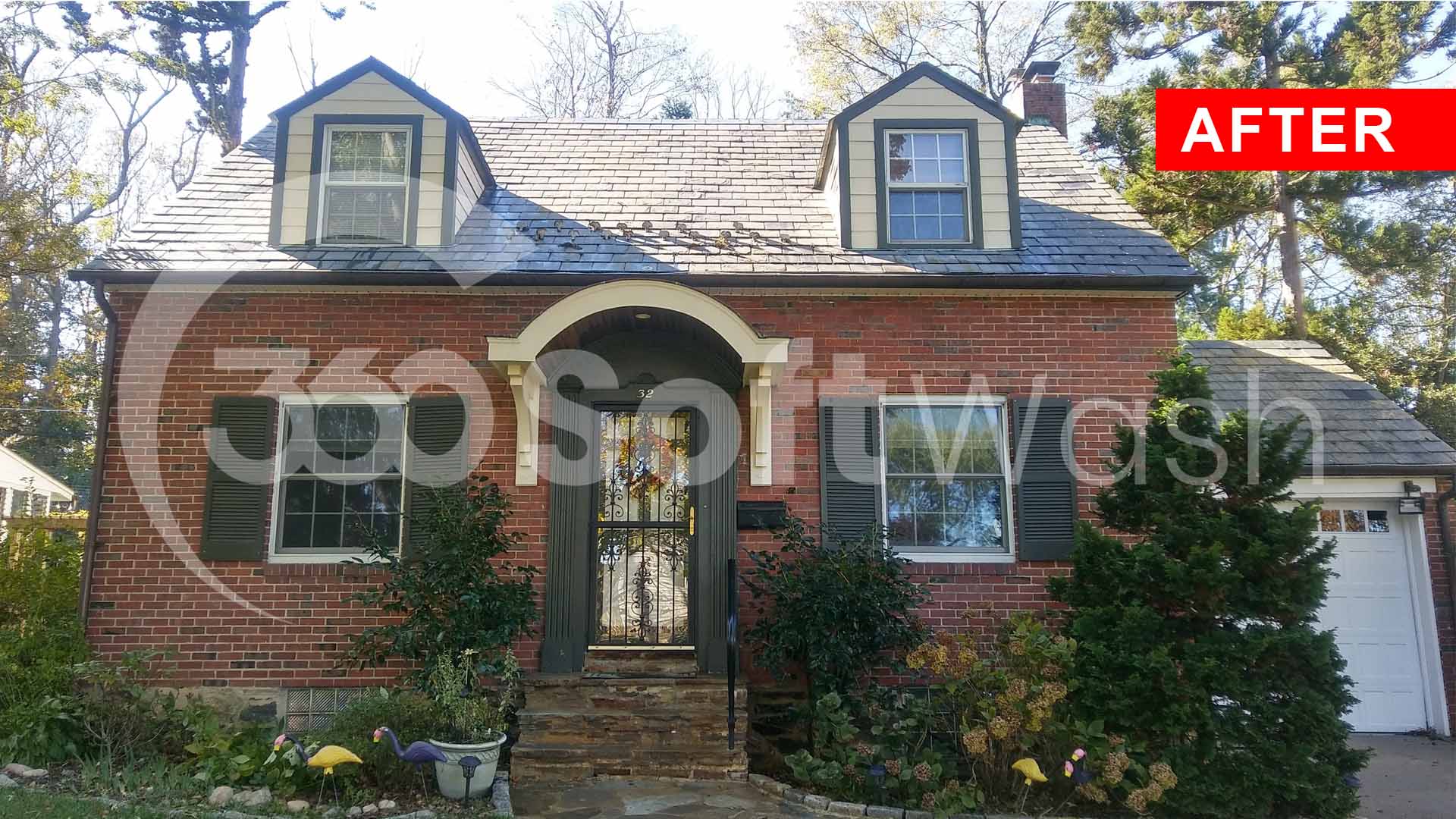 Roof Cleaning Jessup MD
Jessup Roof Cleaning
Low pressure washing Jessup MD removes roof stains from the roof of your home. This protects the roof against damage, prolongs its lifetime, improves efficiency, and brings a plethora of additional benefits in your direction. No matter the age of your roof, if you notice black streaks, reach out to our roof cleaners Jessup MD immediately. Black streaks may deteriorate the shingles on the roof, cause leaks, and many other issues if it isn't properly treated. Our roof cleaning Jessup MD service solves this worry.
Soft Washing Roof Jessup MD
Soft washing roof Jessup MD is our specialty at 360 Soft Wash. This service is safe, and never causes damage to the roof, yet effective, since it reduces damages that algae and mold causes. The cleaning service is also beneficial since it may eliminate the need for roof replacement. Our technicians provide efficient roof washing Jessup MD that removes those black streaks from the roof, revealing an immaculate roof that offers curb appeal to the home. Our roof washing Jessup MD service also expands the lifetime of the roof and gives you peace of mind day in and day out. Roof cleaning Jessup MD is one of the services homeowners should schedule if they want to protect their roof.
Soft washing roof Jessup MD service is cheaper than both roof repairs and replacement. Why not protect your roof and get the most from the structure when it's as simple as maintaining it? Call 360 Soft Roof to learn the exact cost of service at your home. We'd love to add your name to our list of satisfied homeowners, but it's up to you to make the call to schedule roof cleaning at Jessup MD.
Why Hire 360 Soft Wash?
Apart from the many benefits roof washing Jessup MD offers, we bring added quality and professionalism to the job. Not all of the roof cleaners Jessup MD works for the best interest of their customers. They pocket the customer's money and focus attention on earning the next dollar. At 360 Soft Wash, we take pride in our work and our customers. You don't earn a 'top-rated provider' status on Angie's List if you offer mediocre service. We're also members of the Professional Cleaners Association.
When our technicians arrive at your home to clean the roof, they're prepared to get the job done. They arrive with a smile, their expertise, and all of the tools needed to clean your roof. Cutting corners is never on the agenda when 360 Soft Wash is on the job. Our technicians provide you with details of the job, listen to your concerns, answer all of your questions, and ensure an efficient roof washing Jessup MD. Our uniformed professional technicians arrive on time and carry licenses and insurance. All of our technicians are also bonded for your protection.
We use the latest techniques and technology to clean your roof, putting your mind at ease. Our professional roof cleaning service cleans and removes black streaks and dirt and grime from your roof, bringing back its appeal and charm. Our roof washing Jessup MD service removes algae, mold, and other grime that not only risks damaging the roof, but also the interior of the home. If you're ready to work with roof cleaners Jessup MD who work for your best interests, 360 Soft Wash is waiting for your call.
Call now to schedule an appointment (410) 680-2876
Happy Customers
Prompt service. Good results. Good price. Will definitely use it again.
I loved this company. The person was very courteous and professional. They had great prices and were much lower than other companies that I got quotes from. I would highly recommend using this company and I will absolutely use them again.
This 2-man crew did a great job on our home. I tried a water-based power wash myself, but it didn't quite get the job done, especially on the high reaching sections of our home. The team came by, took their time and our home looks great!
– COMMERCIAL & RESIDENTIAL –
A CREW THAT ALWAYS ARRIVES ON TIME
EXPERT TECHNICIANS WITH YEARS OF EXPERIENCE
TOP-QUALITY
EQUIPMENT INCLUDING A SOFT WASHING MACHINE
TREMENDOUS ATTENTION TO DETAIL
Our Service Area
---
HOWARD COUNTY, MARYLAND
Scaggsville, Laurel, Fulton, Savage, Highland, Jessup, Clarksville, Dayton, Ellicott City, Daniels, Ilchester, Oella, Columbia, Elkridge, Simpsonville, Woodstock, Granite, Cooksville, Glenelg, Glenwood, Lisbon, West Friendship, Woodbine.